With springtime turning the corner, a week long adventure was just what Teton and Moose were looking for. Teton had received an assignment from Maine Today Magazine to write about paddling in Acadia National Park. With no prior content for the article, the duo scheduled a weeklong excursion to the coastal waters of Acadia. They switched out their winter hiking gear for island camping essentials and headed north to visit Down East Maine. Stonington, a harbor town on the southern portion of Deer Isle, was a stunning place to begin.
Arriving late at night, we enjoyed a cozy snooze in the back of our trusty Explorer and awoke to a traditional pre-adventure breakfast. We studied our maps to get more familiar with the archipelago of islands we were about to enter.
Referred to as Merchant Row, the water between Stonington and Acadia National Parks' sentinel island, Isle au Haut (pronounced isle-a-hoe), is home to more than 50 islands. It is a treasure trove of exploration for the inspired paddler! Two-thirds of the archipelago's islands are protected and many are open for public use. A local outfitter, Old Quarry Ocean Adventures, has a useful flyer which lists the islands in the archipelago that are open to the public and whether or not they allow camping. This company is a praised campground and outfitter offering kayak rentals and a boat launch on Buckmaster Neck in Stonington. Many use their facilities and base their expeditions from their outfit, learn more here.
We chose to take it upon ourselves, bypassing the facilities of Old Quarry, to launch from the public boat access point right behind the Isle au Haut Ferry Terminal. There is no public parking at this access point, but their is a fee-based parking lot at the ferry terminal. After unloading the car and packing up the kayaks, we were able to park our car a few blocks away courtesy a gentleman we met who was working for the Spruce Island Association. Our plan was to spend three days at sea, exploring at our leisure, with hopes of eventually making it down to Merchant Row's most popular vacation island, Isle Au Haut. The morning was lovely, the air was cool, and the spring sunshine was in full force.
We headed southwest to paddle to our first destination, Mark Island, to view the historical lighthouse that resides on the small landmass. Careful not to get to close to the horn for ear protection, Teton snapped a few photos, and we turned around to head westerly toward our other island destinations. We quickly discovered that our water conditions varied heavily with the amount of land breaks we had around us. The wind had picked up ever-so-slightly so we made our way back into the heart of the archipelago.
Our first stop was Green Island, which is famous for its cliffside ladders that send you up and over to an out-of-use granite quarry. The town of Stonington and its many islands are covered in, and made up of granite boulders, hence the name. Historically, many of the islands were used as granite mines supplying cities like Boston and New York with high quality slabs of Maine granite. Easily accessed and shipped via the water, many quarries were dug in the region.
Green Island's quarry is no longer mined and has filled with rain water. Come summertime, this deserted island will be full of cliff jumping, sun soakers enjoying the much-warmer-than-ocean water in the middle of this pristine island escape. On this sunny, but chilly spring day, we settled for a rock side lunch before setting off to sea again.
After our brief stop on Green, we jumped back in the kayaks and set off. As our day progressed the wind picked up and conditions on the water got a little less desirable. In order to avoid the rough water, we headed east.
Although the sun was shining and temps were mild, we did not want to risk anything. We were out early for the season and water temps were still hovering around 40°. We both donned 3mm wetsuits as precautionary measures and had plenty of emergency backup clothes on deck in the case of a capsize. It is important to be prepared for everything when paddling shoulder seasons. We have plenty of practice in self and team rescue, but we did not want or need to take any unnecessary risks. We left this trip fairly open-ended for this particular reason - avoiding rough seas and letting the calmer water direct and decide our destinations.
We attempted to go south towards Isle au Haut, but it seemed as though we could not catch a break. The weather and winds relentlessly held us to an easterly route. Debating our options as we paddled, we finally settled on a place to call home for the evening - Saddleback Island. Saddleback Island marks the easternmost reaches of the archipelago and the westernmost edge of Jericho Bay. We could tell from our resources that the island was managed by the Maine Coast Heritage Trust and camping was allowed. We would wrap up day one after 9.55 miles of paddling.
We were giddy with excitement! The day had been incredible, the sights beautiful, and the paddling just challenging enough to keep our focus sharp. We were both ready to relax and get out of our sweaty wetsuits. Having already visited plenty of islands along Maine's coast, we knew we had some exploring ahead of us and we were eager to discover the secrets held within Saddlebacks alluring shores.
We unloaded our gear, set up camp, and cracked a celebratory beer. Possibly the best part of kayak camping is the ability to haul extra gear, including luxury items. When we backpack, we focus heavily on cutting weight and staying light. Using kayaks, we can bring all the comfort (and beer) we want - possibly the reason Moose so eagerly agrees to these outings!
Saddleback's trail system was limited - it quickly led us out onto the island's southeast side where a natural sheltered cove quietly resided. We tromped along the rocky shore and found ourselves out on the island's natural rock peninsulas where the views were stunning. The sights seemingly went on forever - to the far reaches of Jericho Bay, countless islands, and the wide open Atlantic. Most stunning was our ability to see the heights of Mount Desert Island to the east and the rise of Mount Champlain on Isle au Haut to the south. It was humbling to witness two parts of Acadia National Park, that lie so far away on the map, in one wide spanning view.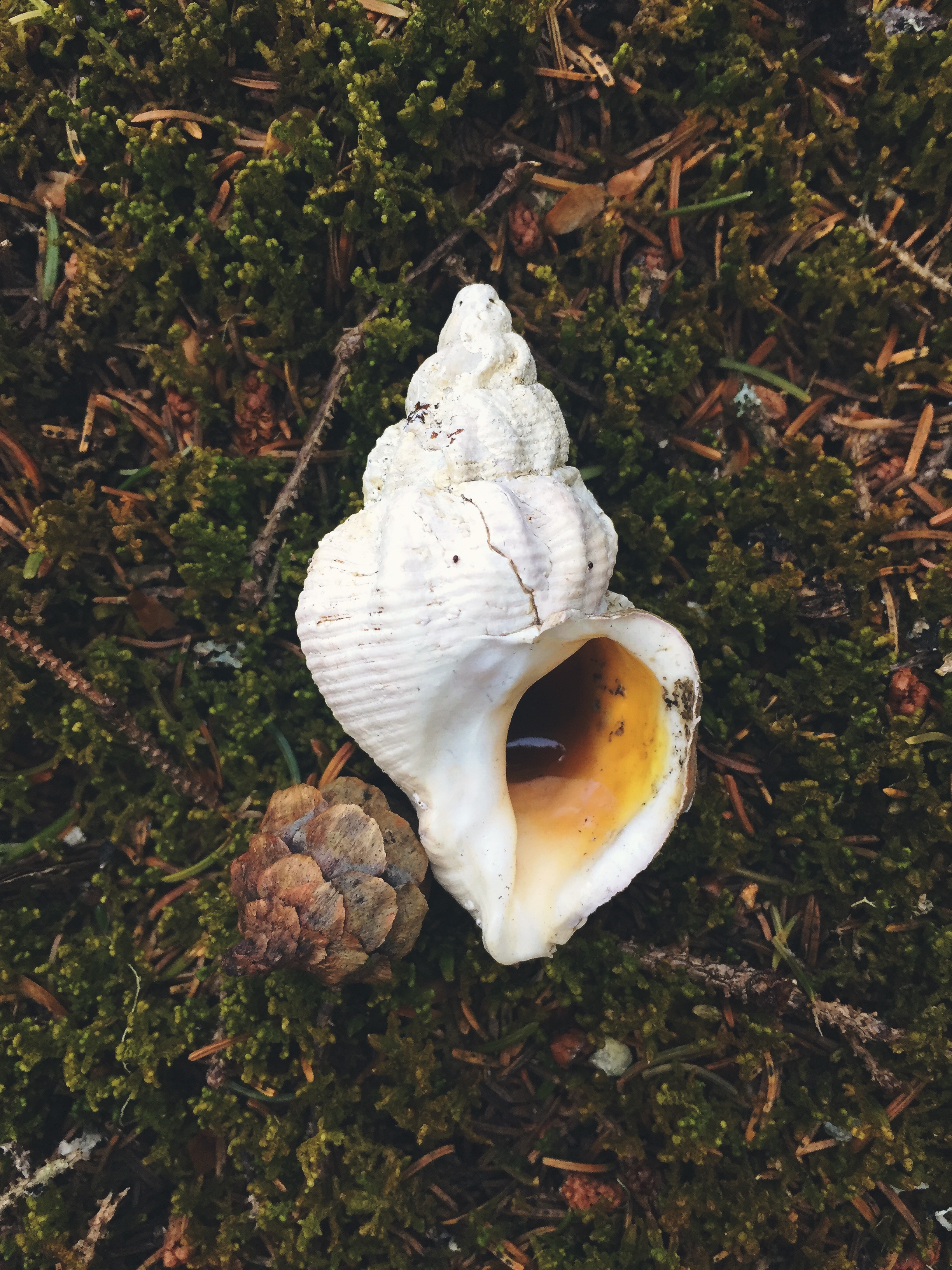 Rest and relaxation awaited us upon our return to camp. We fired up our individual alcohol camp stoves and cooked up dinner, enjoying the sunset and the talk of what was to come.
The next morning we were greeted with heavy winds. The gusts had picked up throughout the night and we knew from the alarm of our shivering tent walls that the water conditions were not going to be ideal. We made breakfast with hast; anxious due to the worsening conditions. Moose, who was in charge of packing the camp kitchen, had incidentally forgotten our pour-over coffee maker! If you are like us and love fresh coffee in the backcountry SOTO's Helix Coffee maker is numero uno! Luckily we had packed the coffee so we were able to make due - improvising with an extra pair of socks! It may seem a bit gross, but it actually worked great, and we enjoyed fresh sock coffee for the remainder of the trip!
After breakfast we broke down camp, hopped in the boats and attempted to depart. We had about 1.2 miles of exposed paddling before our first land break and the water was churning. We decided the risk wasn't worth the stress so we turned around and headed back to the island. Disappointed by our stroke of misfortune, we now worried about losing an entire day to the winds. We decided our best option was to relax and wait it out. Better safe than sorry. We grabbed a few belongings off the boats and headed into the forest where the wind was reduced to a breeze.
The entire morning was spent in our books. At 1 o'clock we reassessed and decided things had settled down enough to make the push. We packed up and shipped out, this time enjoying much calmer seas. We weaved back through the islands, heading westward, exploring the coastline of Millet, Buckle, Coombs, and Bare Islands as we went.
We found shelter and still water in the cove between St. Helena Island and Wreck Island. The tide was on its way out and we spotted a group of harbor seals on some low tide rocks off the islands. Moose moved in to spy on them from afar.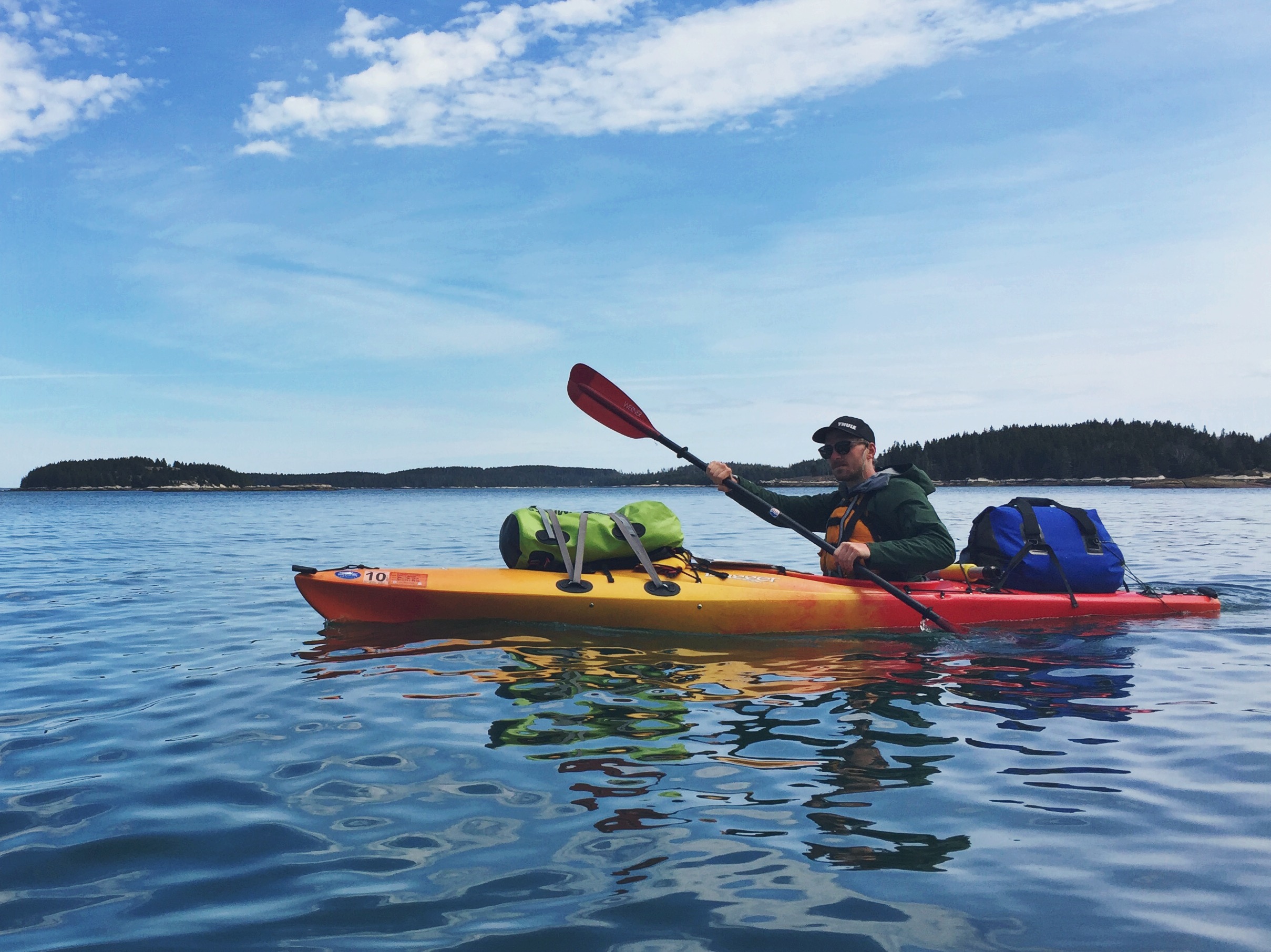 After enjoying the seals, we sought out shelter for some late afternoon lunch. We learned after our morning of bad weather, that we did not want to get stranded too far from Stonington again. That is the ultimate dilemma with excursions like these; you can plan all you want, but the ocean has a mind of its own. If it decides to act up, you may lose an entire day or days. Seeing as we would wrap up this excursion the following day, we decided it was best to stick closer to the mainland than to venture away. Thus avoiding the option of being marooned. Out of ease, we paddled across the small channel to Green Island once again, which was conveniently just north of us (see map below).
After a lunch of bread, cheese and meats, we reassessed our options for the evening. We scanned our map and set our targets on Russ Island, located just NE of Green Island. This was close in proximity and would provide us an easy exit back to Stonington the following day.
As we paddled closer to the island we got more and more excited. The landing itself was gorgeous - a white sand beach scattered with large boulders. This type of island destination was exactly what we love about paddling on the coast of Maine. Once again, a pristine, quiet island, all for ourselves. For Teton it was love at first sight. He could hardly contain his excitement as we landed among the boulders.
The island was perfect! This cozy campsite, nestled in the woods, right off the gorgeous landing would be our home for the night. We unloaded the boats, unpacked and set up camp.
Once camp was established we explored the shoreline - hopping rock to rock we found a perfect place to settle down and make dinner.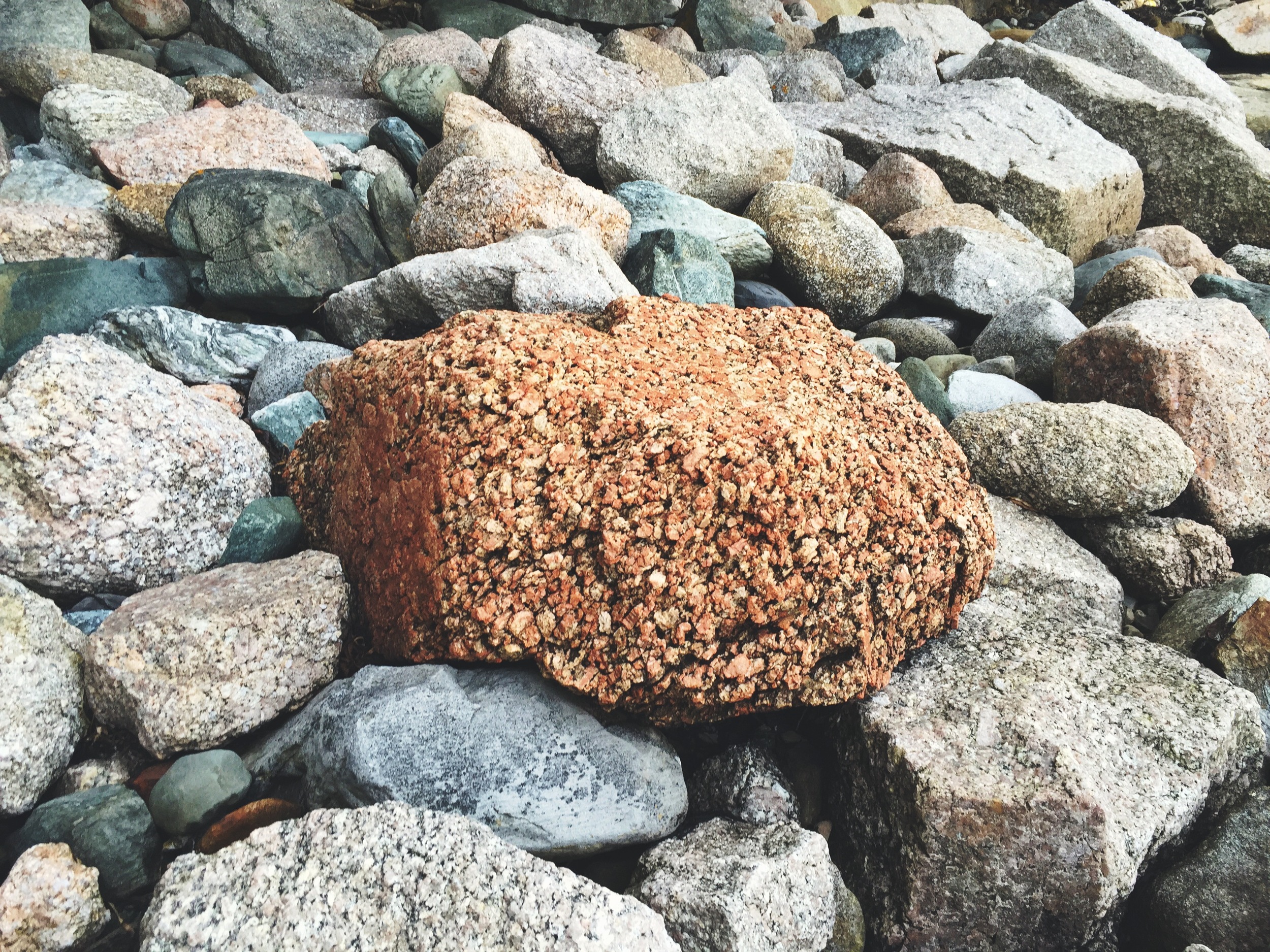 Having recently acquired a dehydrator, it was time to put our experimentation to the test. We packed some simple self-dehydrated pasta for the previous night's dinner and had saved the best meals for last. Moose had some homemade chick pea curry and Teton brought homemade tofu fried rice!
After a successful rehydrated dinner, we took to Russ Island's interior trail system. Russ has a good amount of trails running through it, and we were able to spend the entire evening exploring its wilderness.
At the southwestern terminus of Russ lies an opening where one can climb up a small hill to an overlook. Maybe it was the contrast from spending the day in our boats, low on the water, but we found the view from Russ Island's overlook to be spectacular! Never before had we gained such perspective on the islands we had been so intimately navigating. We became infatuated with this spot and the view it provided! As we soaked up the last of the days rays, we conjured up wishes of someday having a cabin nestled on the overlook. Then we reminded ourselves that wild is always better, and we thanked the organizations who continuously work so hard to maintain these magical places.
Our second night brought a light drizzle, but the moisture had dissipated by morning light. Teton worked on tearing down camp while Moose headed out to the shore to boil water for breakfast on the island's rocky shoreline.
The morning spent on Russ Island was one of the most scenic and magical places we have ever cooked a camp breakfast. Finding yourself in such a location sticks with you. We concluded that even the most expensive kitchens in the world did not have granite countertops as spectacular as the ones we found on Russ Island.
Before heading back to the harbor town of Stonington, we decided we would take advantage of the placid waters and paddle the short distance across the channel to Little Camp Island. It was listed on our paper work as a preserved island and we wanted to know for the future, if camping was an option.
After discovering Little Camp's limited area for exploration, we peacefully paddled back to Stonington where we would begin our next leg of our journey. We would head north to Mount Desert Island and Acadia National Park - more to come!
One thing is for certain, we only scratched the surface of Merchant Row and the Stonington Archipelago. It was magnificent, and we will definitely be back! #LIFEISBETTEROUTSIDE