A winter ascent of Mt. Washington is the pinnacle adventure in New England. Labeled the deadliest 'small' mountain in America, Mt. Washington is home to the world's worst weather. Situated at the center of three weather systems, the peak is notorious for aggressively quick changing weather, hurricane winds and whiteout blizzards. Getting a window of time clean enough to ascend still means dealing with freezing temps 0° to -30° and normal winds gusting around 40-60 mph. Until recently the fastest wind speeds ever recorded by man were witnessed here in 1934 clocking in a 231 mph!
We did our research and were fully prepared and practiced for our ascent before heading out. It is necessary to learn how to use and wield certain tools like a piolet ice axe before embarking on a winter ascent. We watched the weather and downloaded the forecast for our ascent day from the Mt. Washington Weather Observatory. Our plan was simple, an overnight two miles up the mountain with a summit bid the following day.
We arrived in North Conway, New Hampshire in the afternoon and had an early dinner before heading further north to Pinkham Notch State Park, the launching zone for most Washington ascents. We logged our names and intentions at the visitor center as required, and payed the $15 fee for our camp at Hermit Lake Shelter. We then geared up and started up the Tuckerman's Ravine Trail.
Trail data provided by CalTopo: click links below to view
Two miles later at dusk we arrived at the Hermit Lake Shelter. We struggled to find the actual campsite as everything outside of the caretakers cabin was covered in thick snow. Once we located what we thought were the tent pads we dug out a clearing and set up camp. It was already -6° out and dropping, we gathered snow and began boiling what we would eventually become our water for dinner and hot tea. We slept with most of our belongings in our bags to stop them from freezing over. We threw our boots in grocery bags and slept with them as well. Our Luci® Light which hung from our four-season tent froze solid and shattered.
The next morning it was tough getting up. Going from your warm sleeping bag to the frigid 0° wilderness is never an easy transition. Alpine, Twirls and Fin had planned to meet us at our camp bright and early and had begun hiking predawn to meet us at sunrise. They did not have four-season gear so they opted for an early start over the frigid overnight.
Our friends made it right on time and we were happy to see them. Moose was not feeling well upon awakening and unfortunately decided her best option was to head back down to the Visitor Center. Teton, Alpine, Twirls and Fin said goodbye to Moose and began their ascent of the mountain via the Lion's Head Trail.
The Lion's Head Trail is the most popular winter trail for climbing Mt. Washington. Shortly after leaving the shelter the trail turns nearly vertical for some time. With the aid of our axes we climbed up the steep pitch until breaking tree line. The incline is steady post tree line where we eventually came across the Lion's Head, a large rock outcropping seen below.
After the Lion's Head you begin the fully exposed climb through the Alpine Garden to the summit. We walked along Tuckerman's Ravine, an enormous and steep bowl on the side of the mountain boasting steep cliffs and drop-offs before heading straight up towards our goal.
As the slope increased, Teton took some time to teach the gang some mountaineering techniques, focusing largely on how to properly self-arrest with our piolets.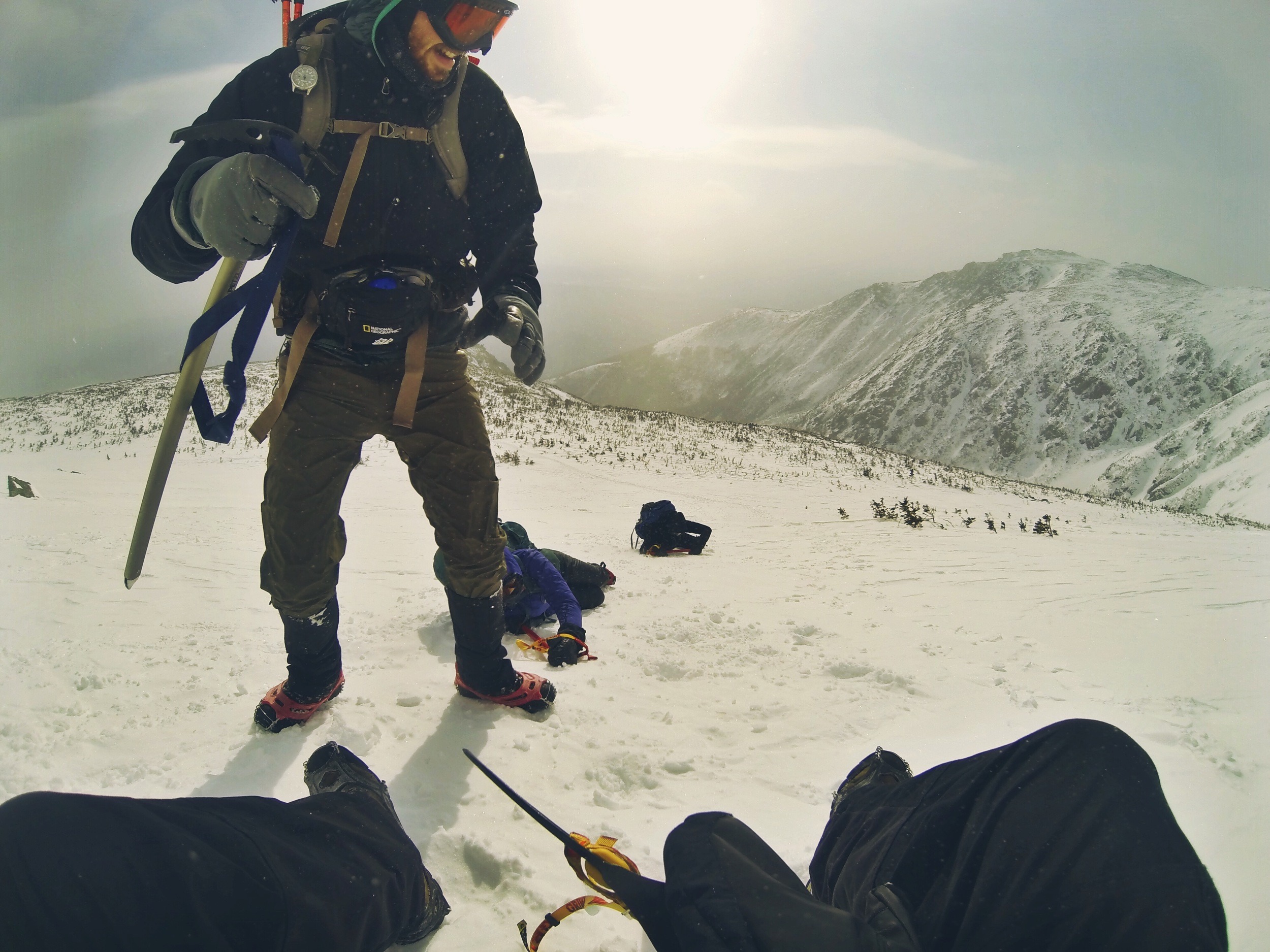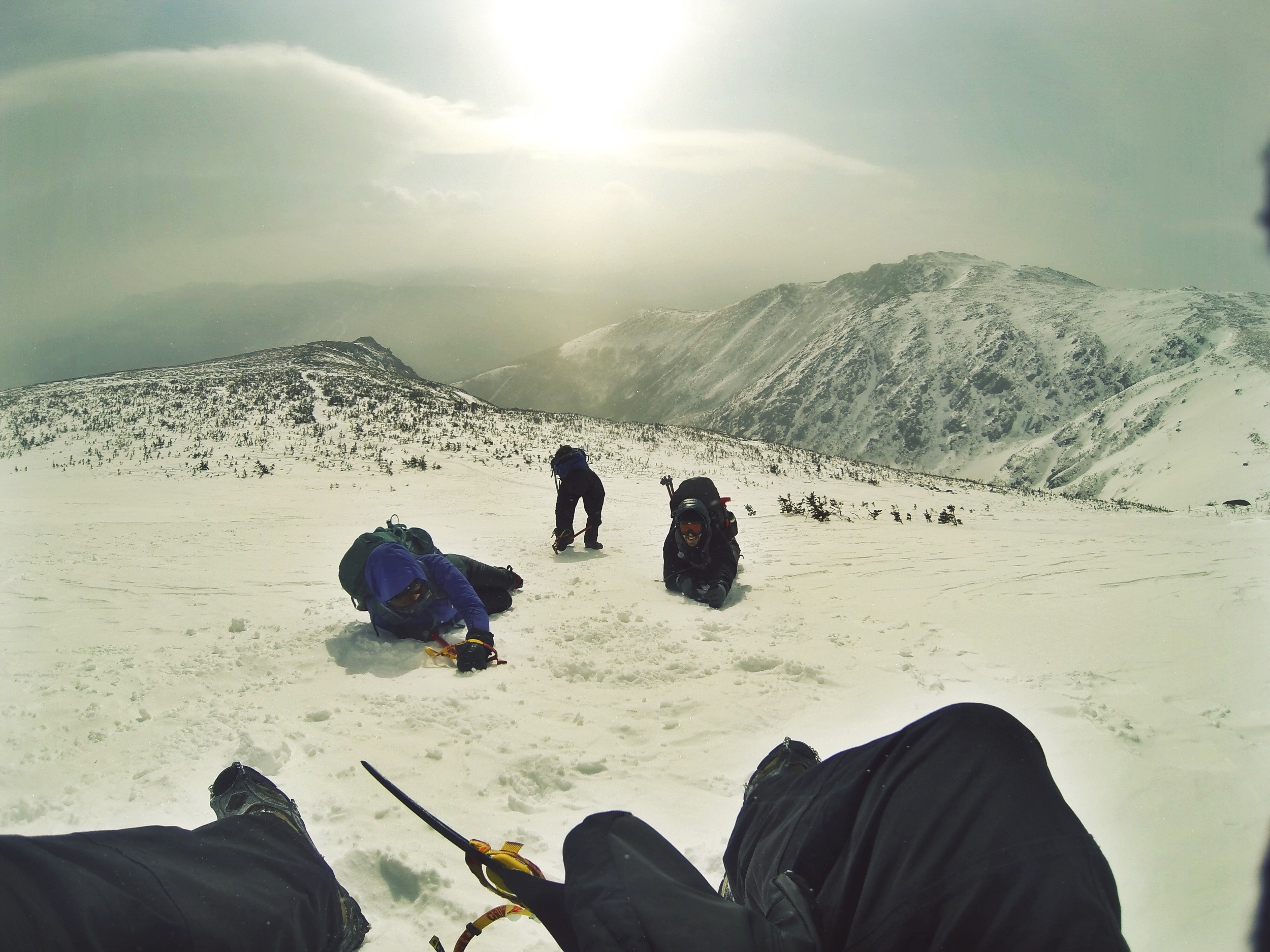 On our final push to the top we entered the storm cloud encasing the summit. The winds really picked up and visibility was greatly reduced. When we made it to the top we ran into another hiker, previously we had not seen another soul. He snapped our picture and then headed back down with us.
It turns out that the other hiker who had beaten us up the mountain was a journalist for the Bangor Daily News. He took photos of us on the way down and eventually wrote an article about the day, which you can read at bottom of this page.
The weather cleared off as we descended and we met other groups making their way up as we headed back down the Alpine Garden. We descended quickly as we covered most of the route sliding and self-arresting down the slope to the Lion's Head.
The descent was a blast. We had safely made it to tree line when we had our one and only incident. Fin lost his footing while precariously making our way back down the near vertical section. Teton caught him by the leg and stopped his plummet. Once Fin regained his balance he reached for a branch to pull himself back on his feet. His axe which was strapped to his wrist flung into motion and the pick flew right into Teton's mouth knocking out half of the tooth it made contact with. Luckily, it was a tooth and not an eye or any other fleshy part of Teton's face. It was a minor incident that should act as reminder of the danger involved with the tools and the environment in which we climb.
Still in decent spirits, the gang rallied together to finish the climb, met up with Moose and hit the town for a celebratory dinner and beer.